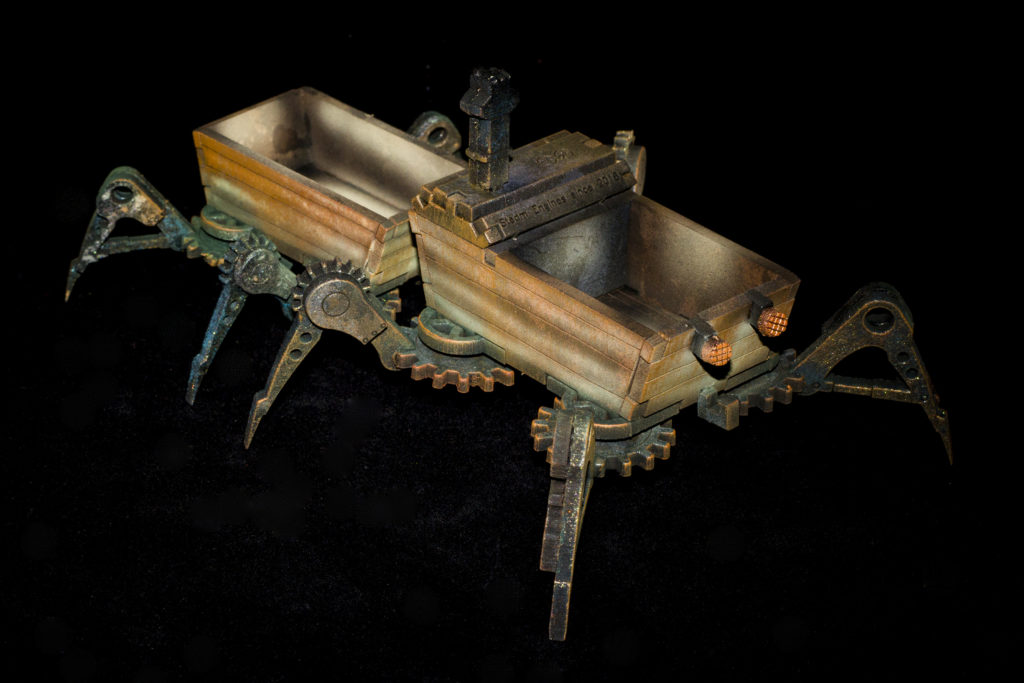 Lemeraviglie scalanti

"Oui!!! C'est bon!!! Questo è ciò che la mia altissima mente può realizzare con dopo un sonnellino! Chiamerò questa serie Arachn-O, essi scaleranno perfino pareti verticali e sostituiranno lavoratori in miniera. Non è Magnifico? Ora gli operai potranno smettere di chiedere riposo e potranno ammirare la mia passione pour les mearvilles ça va sans dir… Adunate i lavoratori del secondo turno, cercate volontari che vogliano raggiungere un livello più alto nella nostra industria. A loro verranno sostituite gratuitamente le braccia con due servoestensioni, riceveranno formazione nell'impianto Steam Floyd e, infine diverranno "i Manutentori". Dopotutto l'arte di ferro, vapore e ingranaggi necessita di pulizia. Licenziate chi non ambisce al meglio!" Nota di Sua Meravigliosa Magnificenza Signorina Amelie Eiffel all'ufficio produzione.
Theclimbing Meraville

"Oui!!! C'est bon!!! Now this is what my great mind can achieve with a little nap! I called This serie Arachn-O, they will climb vertical surfaces and substitute workers in mining. Isn't it Magnificent? Now workers can stop asking for rest and start admiring my art pour les merveilles ça va sans dir...Gather workers from the second shift, search for volunteers who will reach an higher level in our industry. They will have both arms replaced by servo limbs for free. They will be trained in the Steam Floyd Factory and, at the end they will become "the Maintenancer". Steam Cogs and Steel Art need some cleaning, after all. Fire out who don't aspire for best!" Note to production office sent from Her Merveilleuse Magnificence Mademoiselle Amélie Eiffel.
Gli Arachn-O sono il frutto di pura ingegneria steampunk. Modelli creati in taglio laser, disegnati da Monsieur Labmasu et Monsieur Claude De Rougeten, che dovrete assemblare con le vostre, inutili, dita senza ingranaggi. Essi saranno un ottima aggiunta per il vostro tavolo da gioco, potranno perfino camminare in verticale se li monterete bene. Se non dovessero farcela, sarà solo perché voi non siete come Sua Meravigliosa Magnificenza Signorina Amelie Eiffel, per cui biasimo su di voi! Ma gioitene comunque. La motrice è lunga 12 cm ed alta 8, il carrello alto 7 e lungo 10. Dei veri pezzi d'Avant Garde.
E potete starne certi, Ogni elemento Arachn-O é, voi sarete il suo servente, umano senza ingranaggi.
The Arachn-O models is made of pure Steampunk engineering. Models created with laser cut, designed by Monsieur Labmasu et Monsieur Claude De Rouget that leave to you for assembly, with your gearless inferior hands. they will be a great add-on to your battlefield, as they can move itself even on vertical surfaces with your aid. And if they can't, it's just your fault of being not Magnificent as Her Merveilleuse Magnificence Mademoiselle Amélie Eiffel so blame on you! But have fun in that. The big guy is 12 cm long and 8 cm high, the smoller is 10 cm long and 7 high. They are real pieces of Avant-Garde.
You can be sure. You are an IT, each one of them is a HE. Gearless humans, bah!