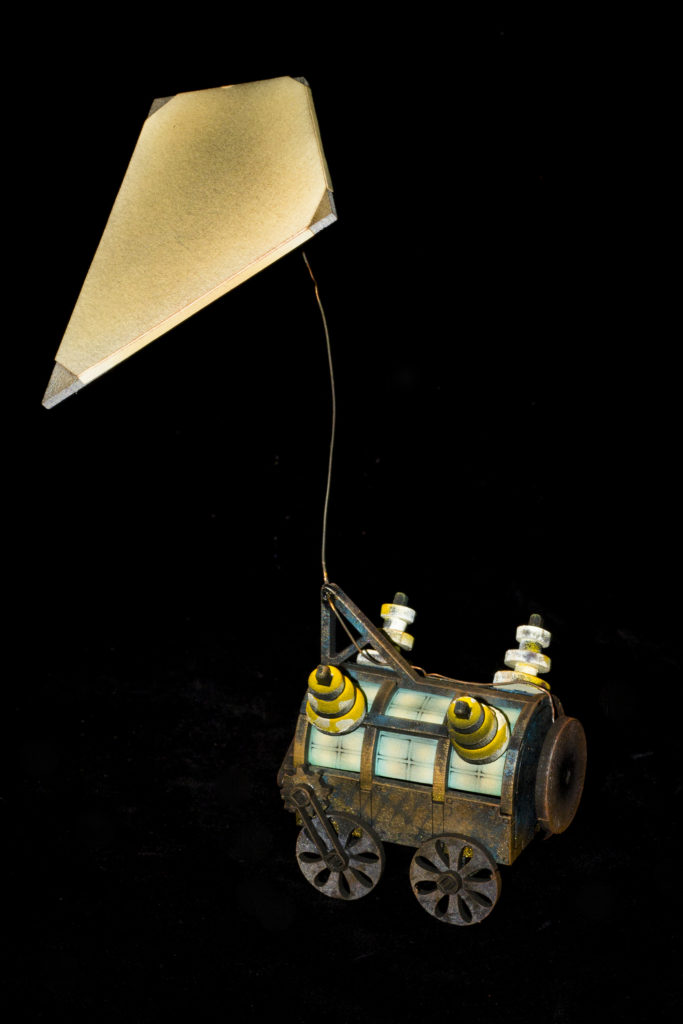 Energia dalla natura.

"Oui.. porta qui quella bobina Tesla. Stai attento, non schiacciarla o la rovinerai. Tres bien, ora non ci resta che attendere la tempesta. Il Chinetimator darà energia alla nostra trivella, per il bene delle Industrie Eiffel. Quel genio ha fatto una vera meraviglia con questo carretto… energia portatile proprio lì, dove ti serve."
"Bien Jean-Jacques, il vento sta aumentando e vedo lampi all'orizzonte… guarda l'aquilone… GUARDA L'AQUILONE… stà iniziando a muoversi! Giù la leva, ORA!"
Energy from nature

"Oui... bring that Tesla Coil here. Be careful not to push too strongly on the safe or we'll ruin the projects inside. Tres bien now as we know we should wait for the storm. This Chinetimator will empower our auger, for Eiffel Industries sake! That Genius made a real Mirabilia with this tool... portable energy right where you need it! Bien Jean-Jacques, wind is rising and I can see the lightings in the sky... just look at the kite.... look at the kite...It's moving!!......... down the lever NOW!!!"
Questo elemento scenico Steampank è costituito da MDF da 3 mm e cartoncino. Questo magnifico generatore può essere utile come oggetto per le vostre campagne o un prezioso obbiettivo da controllare, distruggere o rubare. Se non siete un patito di pittura potrete colorarlo prima dell'assemblaggio come suggerito qui. Aquilone incluso. Non giocateci durate temporali.
(Nota di A. E.: se lo fate, per favore portate a Darwin i miei saluti)
This steampunk scenery model is made in 3mm MDF and cardboard. This wonderful generator could work as a tool for your campaigns or as a precious objective to steal, protect or destroy. If you are not a painting addicted you can paint it before assemblage as suggested here. The kite is included.
Don't play with it under a Storm.
(Mademoiselle A. E.: If you do, please send Darwin my personal greetings.)