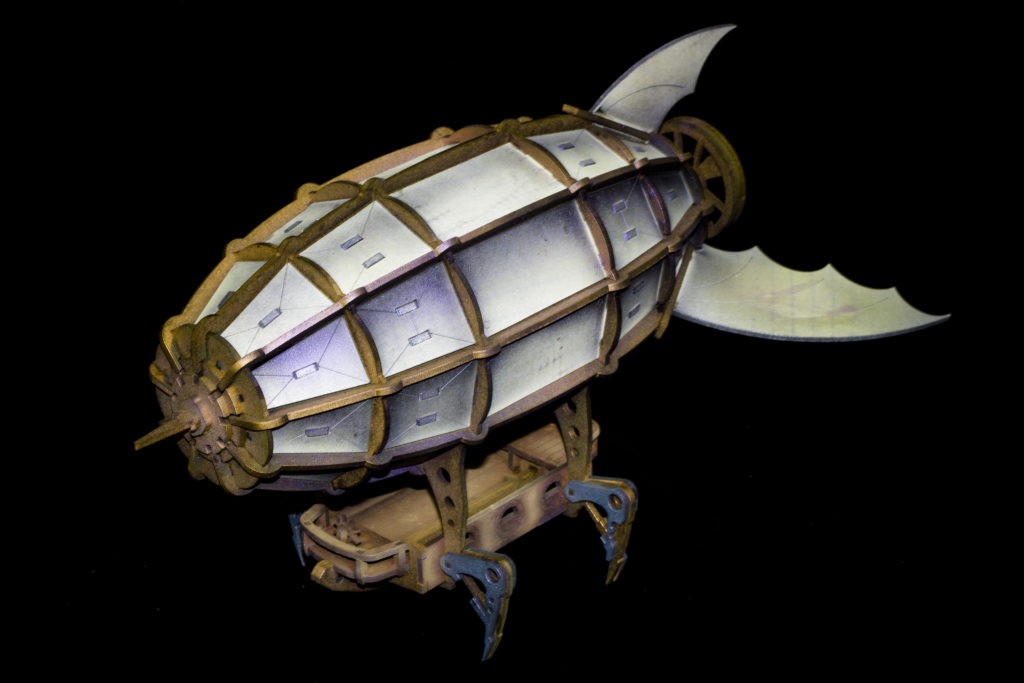 ILronzio tra le nubi

"Capisci Michelle... Il Flash Zeppelin è un miracolo di Eiffel per struttura, elasticità ed affidabilità.
È costruito in stampi pressati a vapore che creano strutture indipendenti all'interno del pallone. Così si evita che occasionali scontri a fuoco possano diventare un pericolo per i passeggeri. I nobili potranno continuare ad insultarsi a morte per il nostro bene!" disse Jule distrattamente, voltando lo sguardo potè vedere la faccia spaventata di Michelle e sbottò innervosito "No, non devi temere di salirci Michelle… no… NO! Sacre Bleau!
Se vogliamo raggiungere la Tour in 30 minuti questa è l'unica possibilità! Dobbiamo raggiungerlo ora che è a terra, finché possiamo. Decollerà in 2 minuti!
Corri! Ci nasconderemo nel compartimento carbone e piazzeremo le bombe proprio lì, dove si sentono più al sicuro! Amelie Eiffel deve essere fermata ORA. Oui?"

"Vous avez raison, andiamo!"

Thebuzz in the wind

''See Michelle... The Flash Zeppelin is one of Eiffel's Miracles in structure, resilience and reliability.
It's built on steam-pressed stamps that creates independent structures inside the balloon. That prevents occasional firefights from becoming a threat for the passengers while Les Nobles can continue insulting each others to death for our sake..." Said Jule absently.
Turning his eyes he could see the frightened face of Michelle and blurted nervously "No you should not fear to jump in Michelle... No... NO! Sacre Bleau!
If we want to reach the Tour Eiffel in 30 minutes it's our only way! We should reach it now that is grounded and while we can. It'll lift off in 2 minutes! Let's run for it, we'll take cover into the coal compartment and we are going to place the bombs right in her cove.
Amelie Eiffel must be stopped TODAY. Oui?"

"Vous avez raison, let's go!''
Questo elemento scenico in taglio laser consta in 6 fogli di MDF dimensione A4 spessi 3 mm. È progettato da Monsieur Claude De Rougeten, uno dei più capaci ingegneri delle Industrie Eiffel. Assemblato avrete tra le mani un elemento da 42 cm di lunghezza per 23 di altezza che vi porterà da terra al celo con la forza del vapore e meccanismi ben oliati.
Eiffel suggerisce di pitturarlo prima dell'assemblaggio, mais c'est a vou, mon amis.
Come Eiffel è solita a dire "l'arte di ferro, vapore e ingranaggi non ha confini."
This scenery model made in laser cut comes with 6 outstanding MDF A4 sections. It was designed by Monsieur Claude De Rougeten, one of the most capable architect in Eiffel's company. When assembled you'll have a 42cm long and 23cm high scenic that will bring you from the land to the sky through steam and well oiled mechanisms. Here's Eiffel's suggestions on painting it BEFORE the assemblage.
Mais c'est up to you, mon amis.
As Eiffel used to say: "Steam Cogs and Steel Art Knows no Boundaries."